Social Responsibility matters.
This inaugural Australian food and grocery industry social and environmental responsibility report is the first industry report published that combines data from the open-source Catalyst program with commercial data from Glow.
This detailed 20+page report introduces Catalyst, highlights the big issues that Australians want prioritised, and sheds light on the areas that food and grocery companies should be assessing when considering their corporate social responsibility programs and the initiatives they get behind.
It provides a simple framework for success that enables businesses to pinpoint issues, understand current behaviour and identify opportunities for action.
Key out-takes
Food and grocery ranks #1 of 30 industries when it comes to social and environmental responsibility
Top issues for food and grocery to focus on include plastic and packaging waste and ethical sourcing
Consumer perceptions of Social Responsibility impact purchase behaviour
Social responsibility is measurable via a new metric, Social Responsibility Score.
What's in the report
Key issues for Australian consumers in general
Issues that consumers think food and grocery manufacturers and brands should focus on addressing
The social responsibility score (SRS) for the food and grocery industry versus peer industries
SRS for example FMCG brands
Action framework for leveraging social responsibility insights
Links to explore the data first hand
Who this report is for
Boards and ESG investors
C-suite executives and industry leaders
Sustainability managers
Innovation and packaging leads
Marketing and brand leaders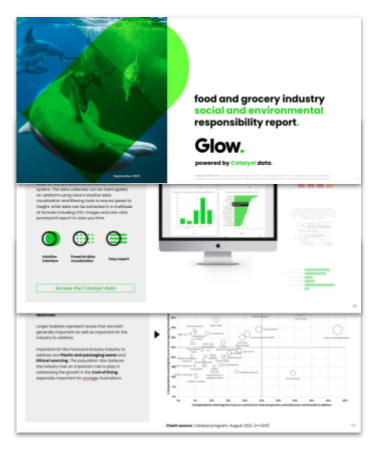 *by submitting this form you agree to receive. 1. The Glow email newsletter, featuring case studies and examples of using consumer insights to drive business growth. 2. The Catalyst email newsletter, featuring the latest data on the social & environment issues Australians care most about. You can unsubscribe from either newsletter at any time.